01/12/15 - Luther College Aboard!
Luther College Aboard!
Day 1 – Monday, January 12, 2015
No complaints at the 3 a.m. wakeup call, because of the eventual destination. First plane took off at 5:30—a bit hard to be excited that early, but a few hours of sleep on the plane helped. Getting off the plane in Miami made it real, with the warm weather. This has been prefaced with so much planning and anticipation it was hard to believe it was real. Arrived in Miami around 10:30, and finally grabbed some food. The Miami airport felt like a mall. It had inlays of gold marine life in the floor. Taking off for St. Thomas finally made the trip feel real---it was a short flight, sunny, and the last leg of a long day. Flying over the ocean was incredible, watching the clouds and the islands, scattered throughout. The color of the water varied greatly. When we landed, it looked like we were going to land on water---the runway didn't come into few until just a few seconds before touchdown. Everyone cheered and waved as we descended the stairs off of the plane. It was great stepping on real ground, and then being greeted in the Welcome Center! We took taxis through crazy traffic to get the boat. The drivers merged and honked much more than we are used to in Iowa! Many accents were really thick, but the drivers were interested in what we were doing.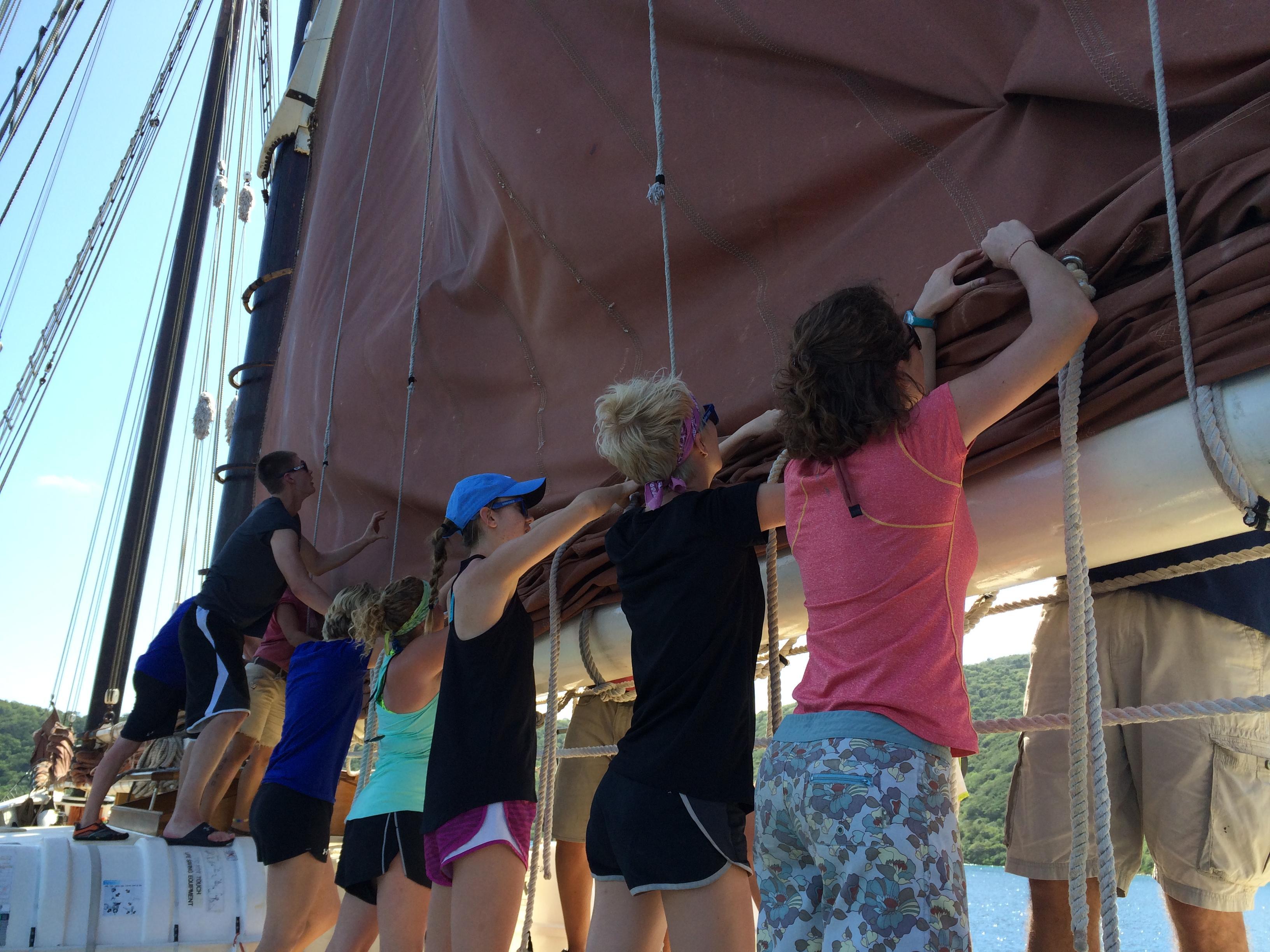 We met two of the crew members right away, recognizable through their Roseway T-shirts. It was a warm welcome, both on land and on the boat. The crew comes from many different places, including the east coast. Apparently, not many come from the west coast. It was interesting seeing all of the huge yachts pulled up to the dock, followed by the unique, elegant Roseway. It was exciting to get on such a different, unique boat. Yachts, we decided, look vacant and boring. We were proud to be casually dressed and ready for an adventure on the Roseway. We got a tour of the boat, learning some of the terms and names that we had discussed in class. It was exciting to apply some of our class discussion topics in real life. Many rugs on board are made out of old rope, and they serve to cushion the deck when the hatch is flipped up. It's cool that it's wooden and creaky, and we were all eager to stay on the boat. Finally launching off the dock was awesome, but it hasn't really sunk in yet that it's finally starting. We all felt far from home just being in St. Thomas, but somehow, being anchored a little ways out from shore feels even further. The rocking and fresh air is calming, and being put into groups immediately made the learning process more comfortable. We look forward to growing together in small groups, and being together makes chores like washing dishes and washing the deck much more fun. It has a very family-like feel. The boat feels enormous. The bunks are actually pretty spacious, and the galley is tiny, but has a stove and fridge, and the salon area is also pretty big. The crew quarters are really cool; they have flags hanging down from their bunks for privacy, and they add home-like touch. It felt lived in, not necessarily messy. Dinner was great—pasta, sausage, salad. We're all excited for the rest of this adventure, and we are all eager to wake up tomorrow.