Shipyard Update: April 22, 2021
Shipyard Update: April 22, 2021
Thursday, April 22, 2021

Roseway's 2021 ship yard is well underway in Mystic, CT!
Shortly after the ship's arrival in Mystic, the Coast Guard gave their preliminary inspection. They took a close look at a handful of planks under the waterline, and gave the thumbs up for the ship wrights and crew to move forward with a handful of routine maintenance projects. For the first time in many years, Roseway is not undergoing a big project (like replacing the cabin top or the transom) in yard! A short work list paired with the green light from the Coast Guard means that Roseway will likely return to her home port in Boston mid-late May.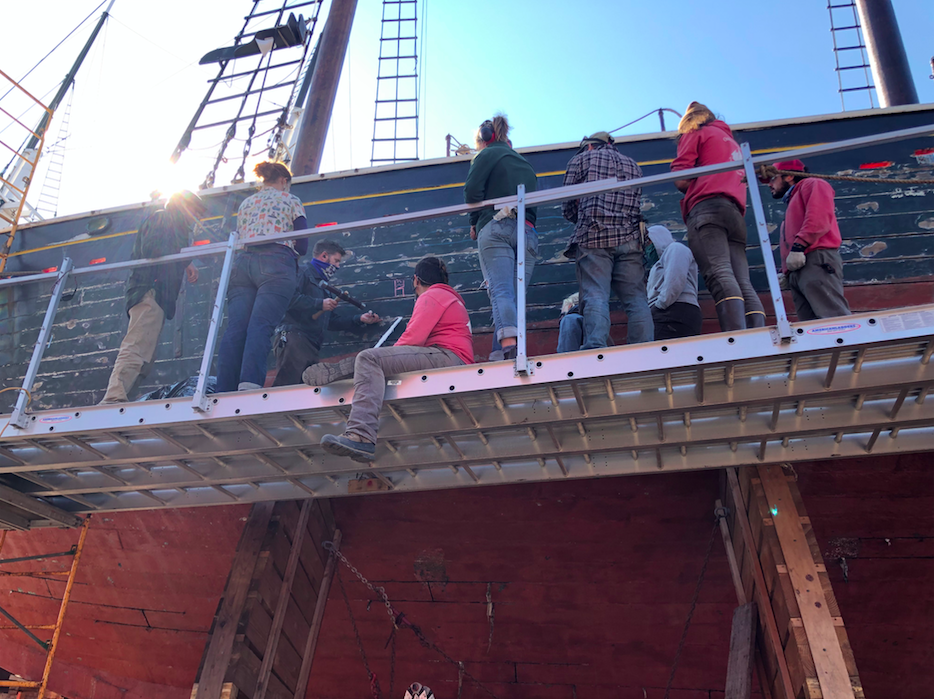 Mystic Seaport Museum has been an excellent setting for our Deckhand Educators to shift into student-mode. They have learned how to spin oakum, how to caulk, and even how to operate the man lift! We are grateful for the ship wrights at Mystic Seaport for sharing their trades and skills with the next generation of sailors.
Topside work continues...seaming, scraping barnacles, sanding, and lots of painting to come! Simultaneously, ship wrights are making new gaff jaws.

Continue to check our Ship's Logs for more updates. Until then, cross your fingers that the rest of yard brings no surprises!