10/13/17 - Ocean Classroom 2017: Geology Science Class!
Ocean Classroom 2017: Geology Science Class!
October 13, 2017: Our last day in Norfolk start with a great breakfast of waffles, sausages, and fruit. After breakfast, everybody went to the park and we played some team building games with each other like Bird and Perch, Shark, Turtle, Jellyfish, and Ultimate Frisbee. After we had literature class in which we discussed our message in a bottle ideas. We came back to the boat for a sandwich bar lunch. The crew finished bending the sail on and we all furled it as a group. We rushed from the boat to the pavilion the museum for a riveting science class led by Will and Noah about geology. We learned all about the different kinds of rocks and the way tectonic plates move and interact with one another. They also taught us about the different layers of the earth like the inner core, outer core, mantle, and crust along with their properties. We went back to the boat and a few of us went to catch crabs off the pier. We all got together again at 1715 to go back to the Battleship Wisconsin for an escape room game on the main level. Only one of three groups were able to finish within the allotted hour and then we came back for a great dinner of rice and a ton of chicken. It was a super last day on land, I'd give it an 8/10.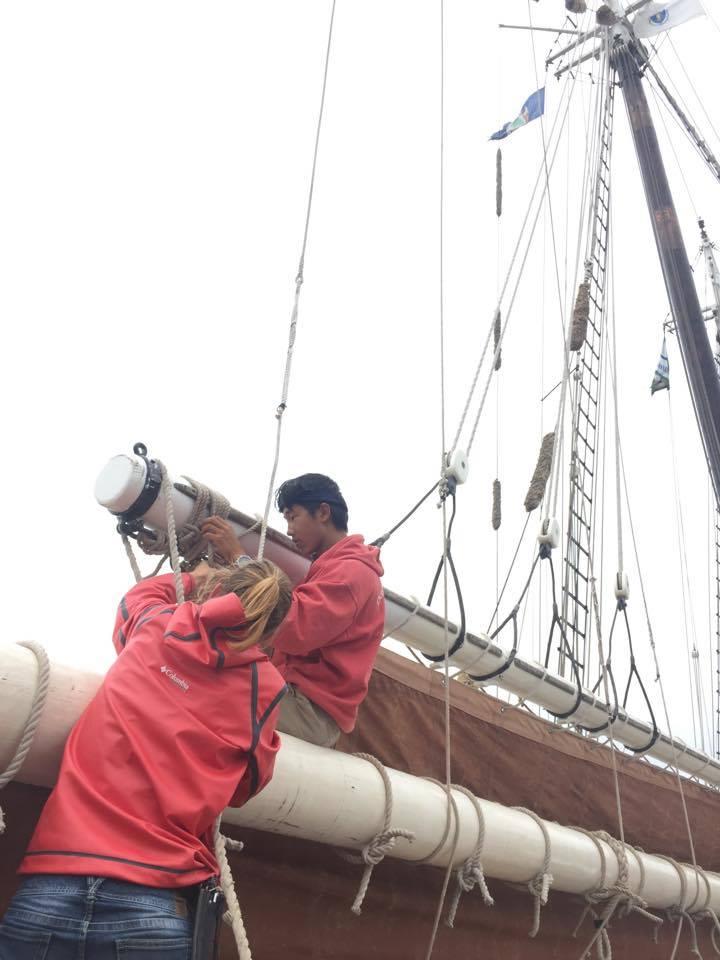 Miss Curran shows Kai how to lash the head of the old mains'l to the gaff.