08/14/17 - Deckhand Olympics & Portsmouth Parade of Sail
Deckhand Olympics & Portsmouth Parade of Sail
August 14, 2017 (the last two days aboard Roseway): Happy Birthday Brenden! We started off this morning at the Isles of Shoals anchored next to the Harvey Gamage. We chomped down on some breakfast burrito casserole and did our morning chores. We hoisted up the anchor and set sail towards Portsmouth, New Hampshire. With competition in the air, the Deck Hand Olympics began at 10:00 hours. There was strong performance from all three watches in knot tying, sea shanties, rope coiling, and pin chase categories. In the end, the one and only A-Watch came out with gold, B-Watch with silver, and C-Watch with the bronze. Strong winds pushed us up and down the seacoast with heavy tacking going on. The Roseway was cooking at a whole nine knots for a few hours as other boats gazed at our beauty. We enjoyed sausage fried rice and salad with strawberries for lunch. Then it was time to begin our afternoon rotations, which included packing, surveys, and relaxing out on the deck and soaking up the beautiful, as well as final, day at sea. During rotations, we had to celebrate Brenden's 18th birthday with an incredible cake made by Jen, our fabulous cook. It was a map of everywhere we have traveled this past week, the inside of the cake included a chocolate layer, cookie dough layer and a cookies and cream layer. It was finally time for the awaited Parade of Sail with the three tall ships, Coast Guard, airplanes, police, and every boat in the harbor! We had sponsors that allowed scholarships for students to go on this week long trip along with a reporter from the Portsmouth Herald. A pilot boat driver pulled up next to us and gave Brenden a Time Magazine. We then anchored in front of Fort McClary in Kittery Point, Maine where we had pizza for dinner and left over cake. After dinner we started our deep cleaning to leave the boat cleaner than when we bordered it.
Throughout the trip we were challenged in many ways, forced out of our comfort zones and bunked with people we had never met before. In order to do the chores and sail safely we learned to communicate and work as a team or as a Salt Family by using our community values; which are respect, trust, teamwork, safety and responsibility. Overall this trip was fantastic, we all had a lot to take home with us and we will remember this trip for a long time. This trip gave us all friends that will last us a very long time, even if before we didn't know anyone.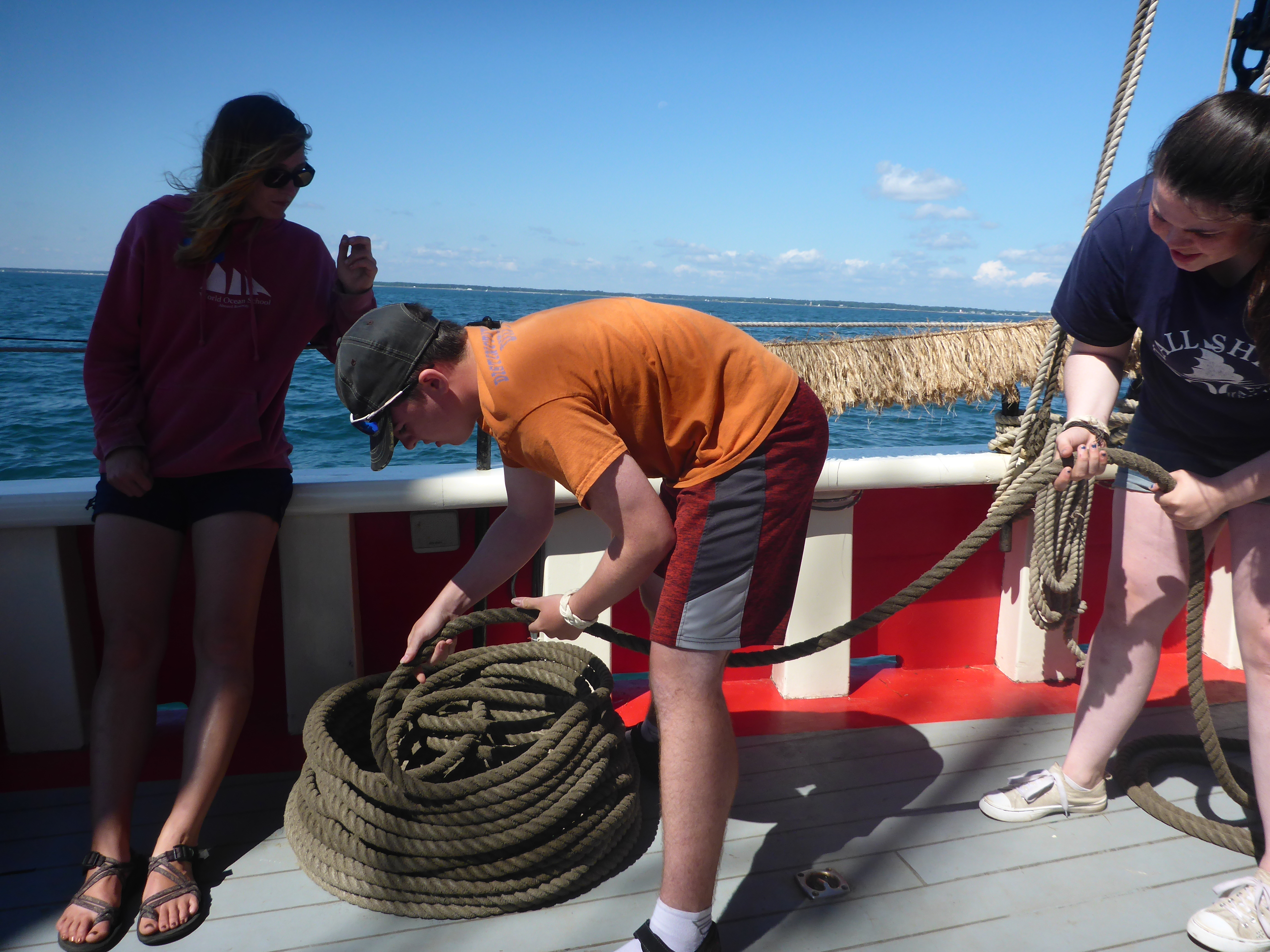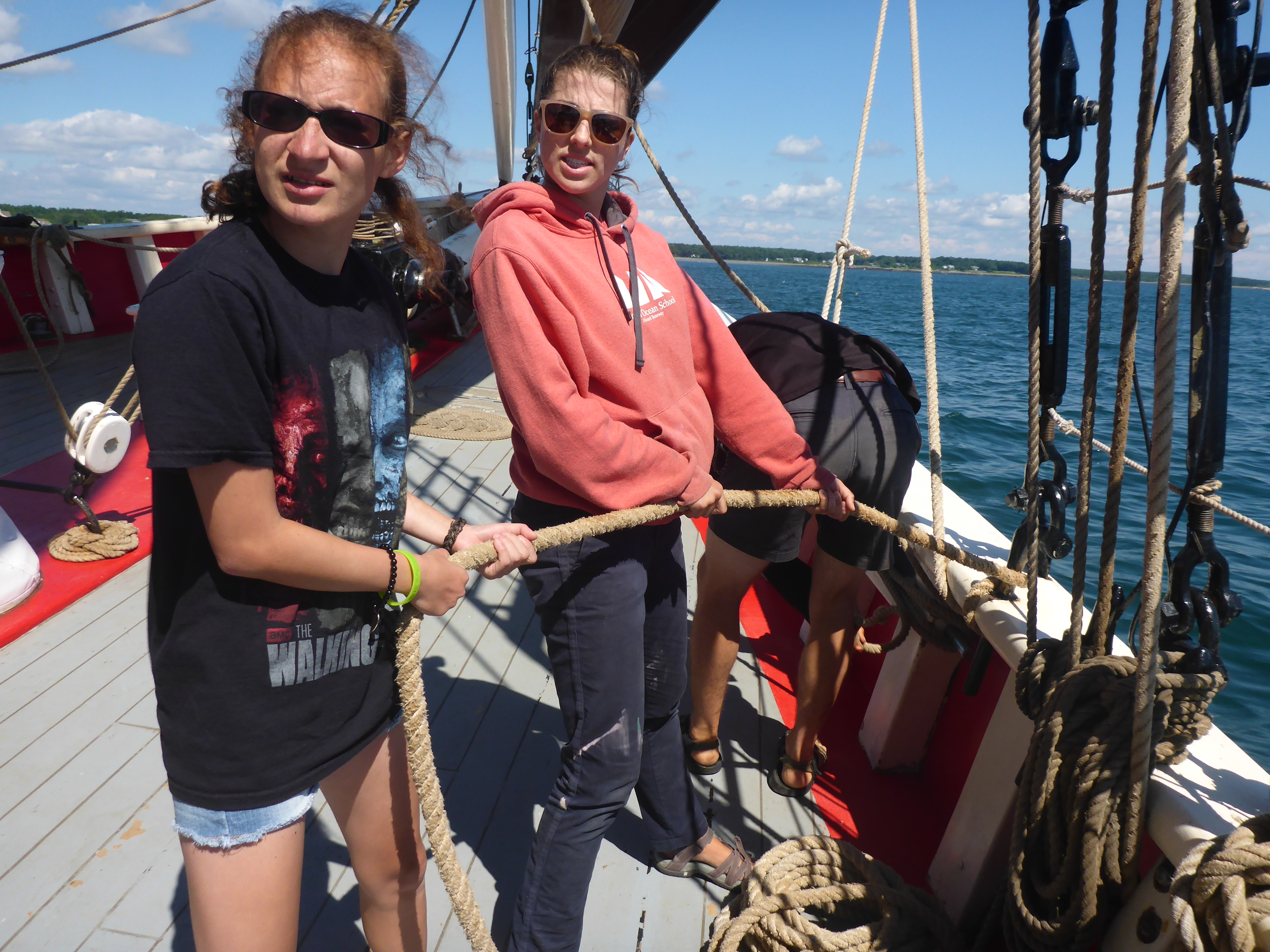 Left: Tryston and Amber ballantining as judge Brandy looks on during Deckhand Olympics. Right: Cara and Roslynn ease the jib sheet for a tack.
Left: Sea Challenge Program! Right: Singing Happy Birthday to Brenden.