08/13/15 - "We Don't Want to Leave"
"We Don't Want to Leave"
The day started at 7:30 with loud wake-up call as usual. One we were up we began the day with a breakfast of eggs, sausages, and potatoes. Then we did our "I'm a stars", did our morning cleaning and raised the sails. We headed out from P-town and headed towards the southern end of stellwagan bank where we had seen whales yesterday. During our first watch rotation we had reading and reflection where we practiced marlinspike by making Turk's heads bracelets while others in the group read about shanties or other fun topics.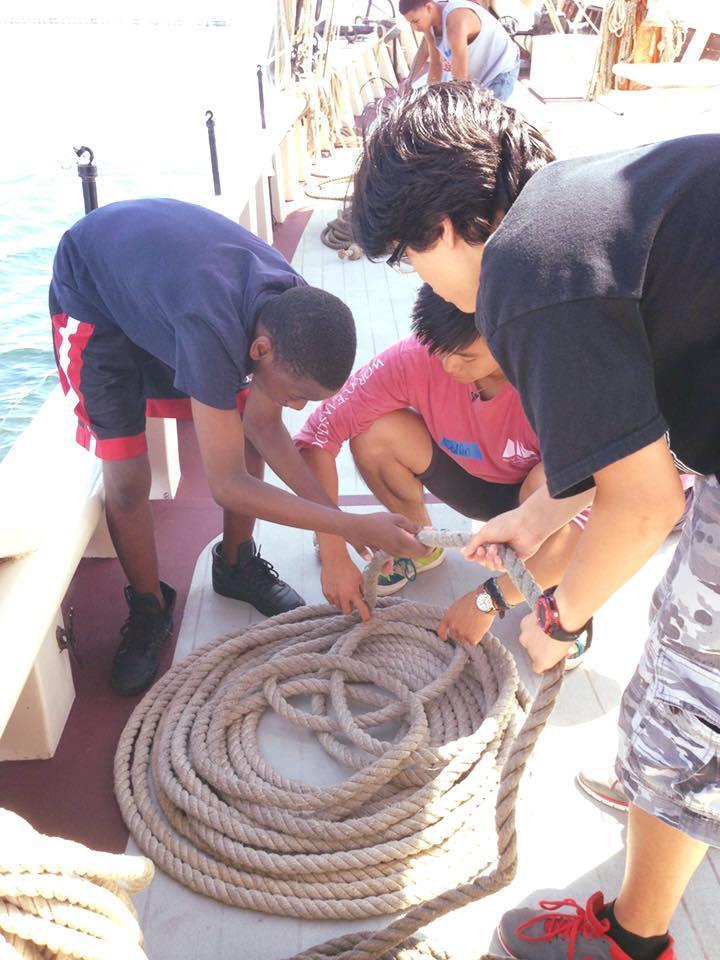 During our next watch of seamanship we practiced intently, perfecting knots, going to ropey places, and coiled, coiled, coiled! Our practice was cut short however by the sighting of our baleen buddies. We saw Humpback whales again, which swam very close to the ship, but the show was stolen by the most adorable harbor seal which darted around the Roseway, capturing all of our hearts.
Amidst the whales we also saw Bluefin Tuna, making our watching experience today more bio diverse. We moved on to active watch, where we plotted our position, ensured the boat was safe through routine boat checks, and saw a juvenile basking shark! We continued to work on our coils during this watch until we were relieved. Leda, Michael, Nick and Ciara finally got their chance to climb the rig.
It was amazing, and exhilarating, and slightly terrifying. The campers all enjoyed some down time, to read and continue to practice the sailor arts, until it was time to drop sails. We made our way into Nahant harbor and dropped the hook, after which B watch set up dinner, which had a surprise guest of fried calamari which was caught by Nick and Teddy P. last night before bed. Scrumptious!
Now with our chores done, we await our last evening muster aboard the Roseway. We don't want to leave. Ever. We all grew so much and we are sad to leave the Roseway tomorrow morning and will miss all our shipmates.