07/19/17 - Positive, Patient, Productive
Positive, Patient, Productive
July 18, 2017: Waking up early in the morning (around 6:45am), being the one of the first students to wake up and wash up was almost relaxing. The fog in the morning was thick. The waves went from calm to trippy, and everybody woke up with "morning blues." We set sail later than usual today because there were some errands that needed to be done before we could go. Everyone is low on energy and jittery in the morning, which is understandable, except for Stephan. I don't get it. We started the morning with exercise to get us warmed up. You can tell people are tired when Tysun thought the spoon in his coffee mug was a straw. The fog started to clear up (barely) as we were eating breakfast. Breakfast this morning was quiche, home fries, and biscuits, thanks to Jen and Jahcari. The fog slowly crept back in but everybody seemed to be better after a meal. I guess food does bring people together. After breakfast, we had to do chores and I had to clean the fish head (The bathroom). I was a wee bit traumatized. We got called up to learn about shanties and sailor song. If only I could sing, this would have been better for me. The group started playing a game that I still don't understand. It's all good though. We learned how to do midshipman's hitches/stopper knots. I got it on the first try, but I doubt I'll remember how to do it. The sun comes through as the fog displaces. I've been helping Rachel with organizing the gaskets, Zach with lifelines and lifting the small boat, and helped with the anchor ball and lantern and jumbo halyard with Jamee and Susie. I tried helping out with bow watch and setting up lunch. I've talked to people to vent and cool down after getting frustrated so it's all good. Lunch was chili, cornbread and salad, so it was nice except the whole thing with boat sail water dripping on our food and water splashing all over us. We all helped raise the sails and I was helping to raise the foresail of the throat halyard (just a 1000-pound sail).
After lunch, I helped wash the dishes with other shipmates despite the confusion. Then I was called to do active watch with my watch group and I did boat check. I'm still getting used to how things are on this boat but it's cool. I've realized today is the first day we've had of rain (the reason why this page is mostly drenched in rain) but at least it's raining, low key what I've been waiting for. Personally, I've been getting better in terms of balancing how I feel, what I'm thinking. I'm dealing with being positive, patient, productive and knowing my personal needs whether it's emotionally or mentally. Something I'd like to work on is my communication and self-regulation skills but at least I'm trying. --Marcus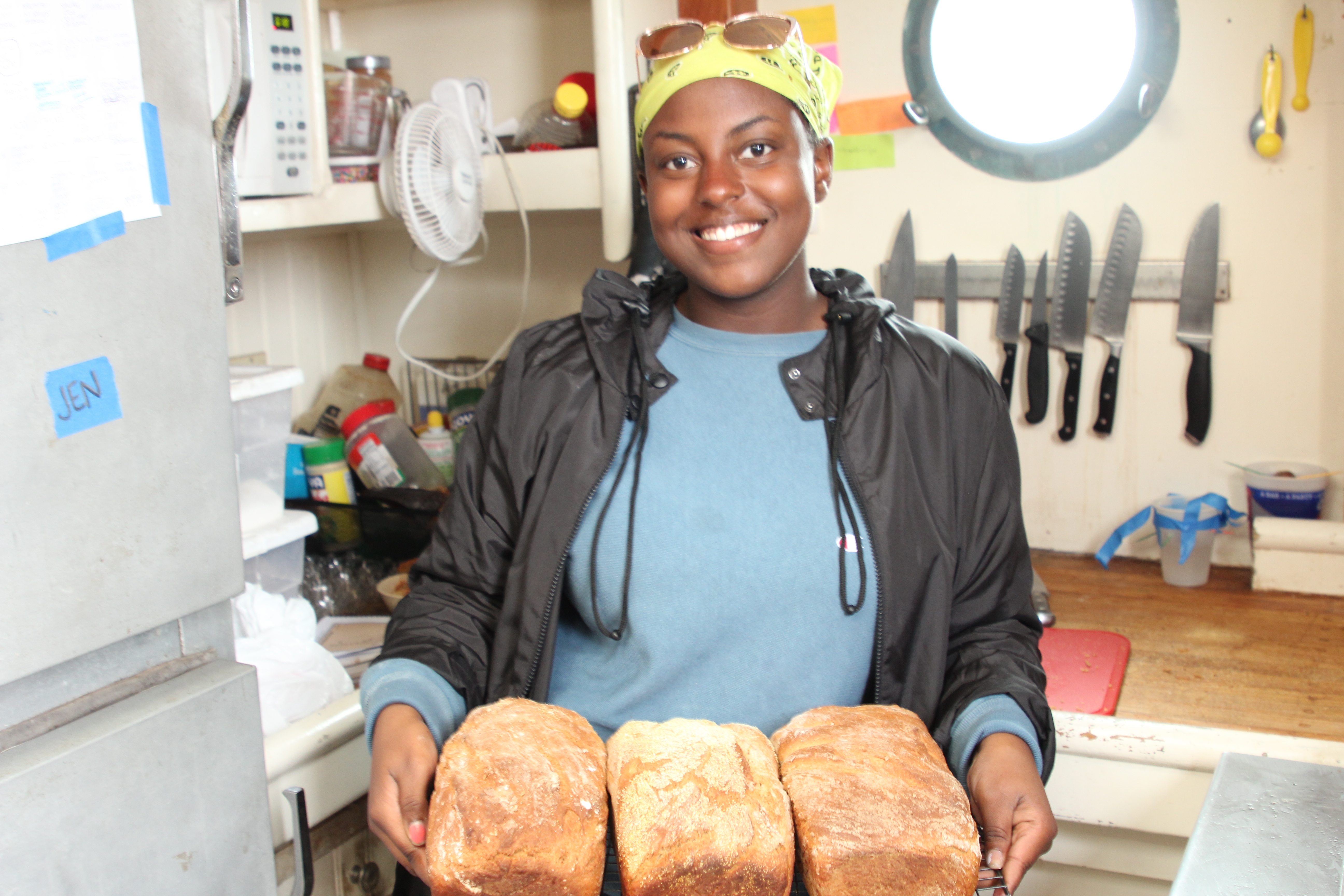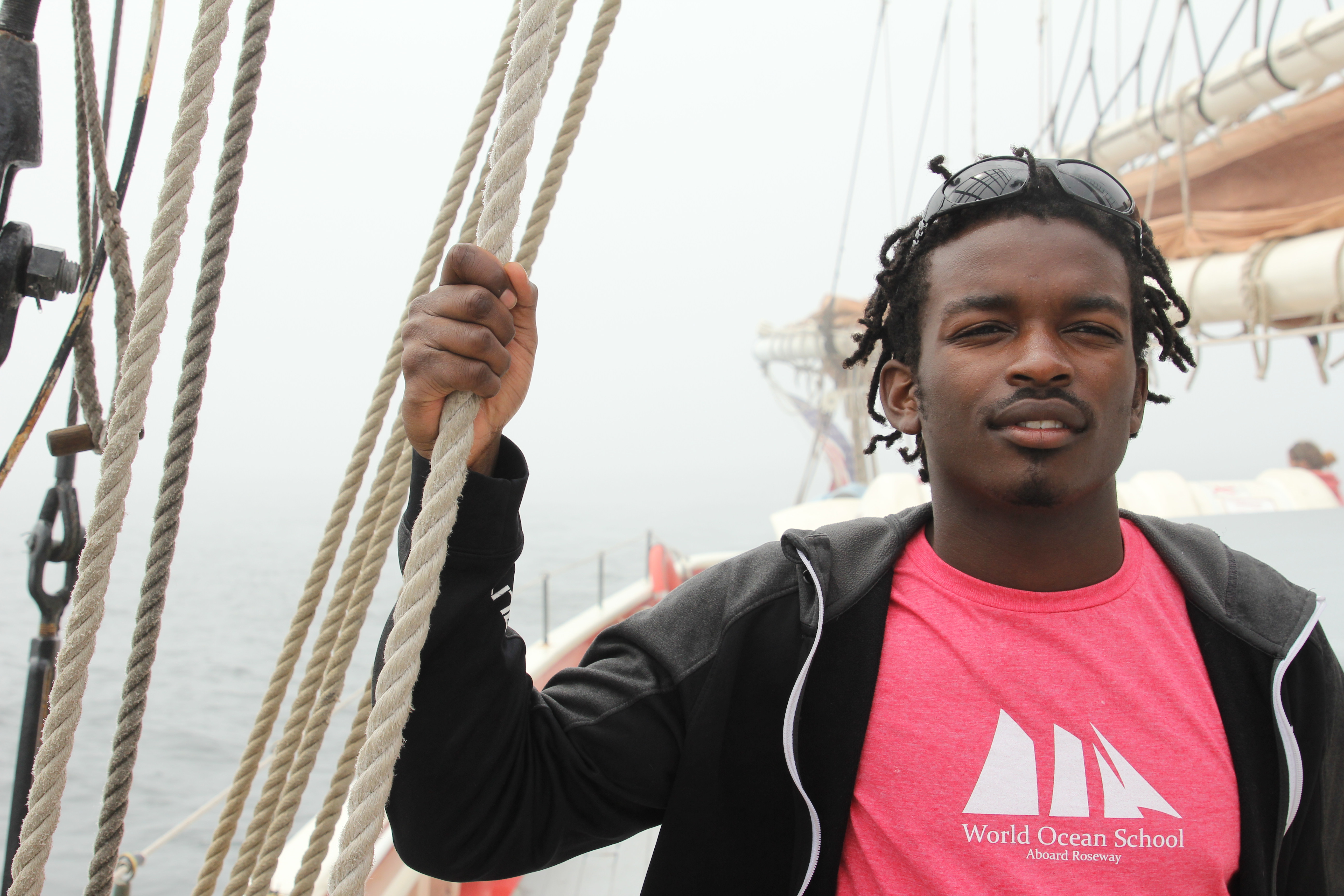 Left: Morgan poses with bread she baked! Right: Stephen on his morning Junior Watch Officer duties.
Left: Jasline poses with a homemade postcard. Right: Alejandro, Tysun, Stephen, and Taurus keep themselves entertained.
Left: Brandon braves the elements to steer a straight course. Right: Joe stays in high spirits despite the fog.