06/29/16 - 2016 Summer Ambassador Program: New Sights in a New State
2016 Summer Ambassador Program: New Sights in a New State
This morning we woke up to foggy, overcast skies and a cool, cutting wind. After a hearty breakfast of pancakes and sausages, we set sail for Appledore Island, putting Gloucester Harbor behind us. It felt bizarre to be leaving Massachusetts, especially for those of us who were newcomers to the state. Despite anchor troubles at the onset of the voyage, we were able to have a productive day learning navigation and knots, as well as performing our daily duties on active watch.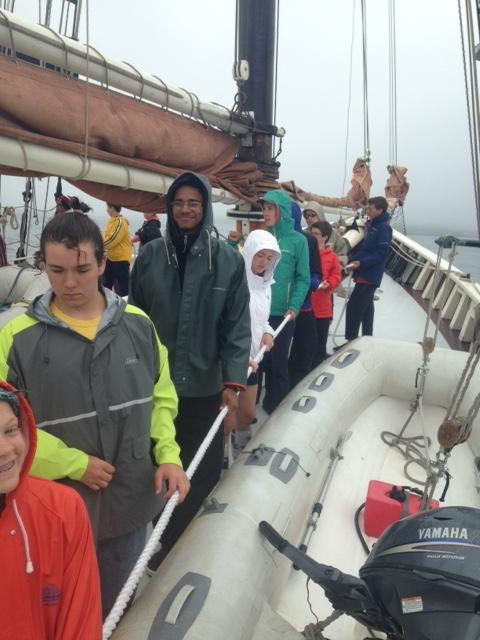 Shortly after lunch, Captain Paolino raised the call of "There she blows!" when he spotted a fin whale coming to the surface some distance away. We all scurried to the aft of the boat in a desperate attempt to get a glimpse of the animal as it rose once more to take a breath before diving back down to the depths. Squealing and jumping with joy, we considered ourselves fortunate to see such a magnificent creature in its natural habitat. Though relaxed, the afternoon brought with it a dark line of storm clouds that ominously moved toward us. As the breeze dropped in temperature and began to cut us to the bone, swinging wildly from one direction to another, those of us from warmer climates began to pile on the layers. Once we made our way through the confuzzling winds brought about by the squall line, we were greeted by the welcome sight of Appledore Island, a low shape rising from the ocean in a majestic tumble of rocky coast. We quickly struck the sails due to the possibility of incoming thunderstorms whilst we dropped anchor in the sheltering harbor of the Isle of Shoals.
Now, as we sit down below in the toasty main salon, we have to think about how much things have changed in such a short amount of time. Our time on Roseway has fostered close-knit friendships and a sense of belonging aboard the schooner. As we settle down for the end of the day, cackling (and some involuntary snorting) is what we enjoy to hear and look forward to hearing it again tomorrow.