04/27/18 - Shipyard to the Stars
Shipyard to the Stars
The Roseway arrived at the Gloucester Marine Railway roughly three weeks ago. On the first day after arriving at the dock, the general manager, Viking, talked to the crew about expectations while working at the yard. Something I can't stop thinking about is how she called the Gloucester Marine Railway the "Shipyard to the Stars". This has really resonated with me because although the days are long and the work is hard I still feel that this place is special and our opportunity to work here is unique. From visits to the Cape Ann Museum and exploring downtown I have come to fully realize and appreciate the rich maritime history Gloucester possesses. In the museum they have an excellent collection of paintings by the famous, local marine artist, Fitz Henry Lane that were created in the mid-1800s. When I stared at these beautiful scenes of tall ships in the harbor I couldn't help but smile while thinking about how our own schooner is gracing these same waters 150 years later.
Regarding the work at the yard itself, each day brings something new and different. One of the many tasks I have been working on is cleaning up the pillow bearings that were removed from the bilge below the salon. The drive shaft, which is connected to the propeller and driven by the engine, rests inside these bearings and allows it to rotate. I learned how to use a chipping hammer to remove the inch-thick rust that had built up on the undercarriage of the bearings and I used degreaser to clean up their lead sleeves, or babbitts. This allowed us to get a better understanding of the structural integrity and wear of the bearing. On both bearings, it was discovered that the babbitt had actually melted causing the lead to get redistributed and creating an uneven surface. This likely occurred because of a misalignment between the drive shaft and the bearings. Both pillow bearings will either need to be resurfaced or replaced.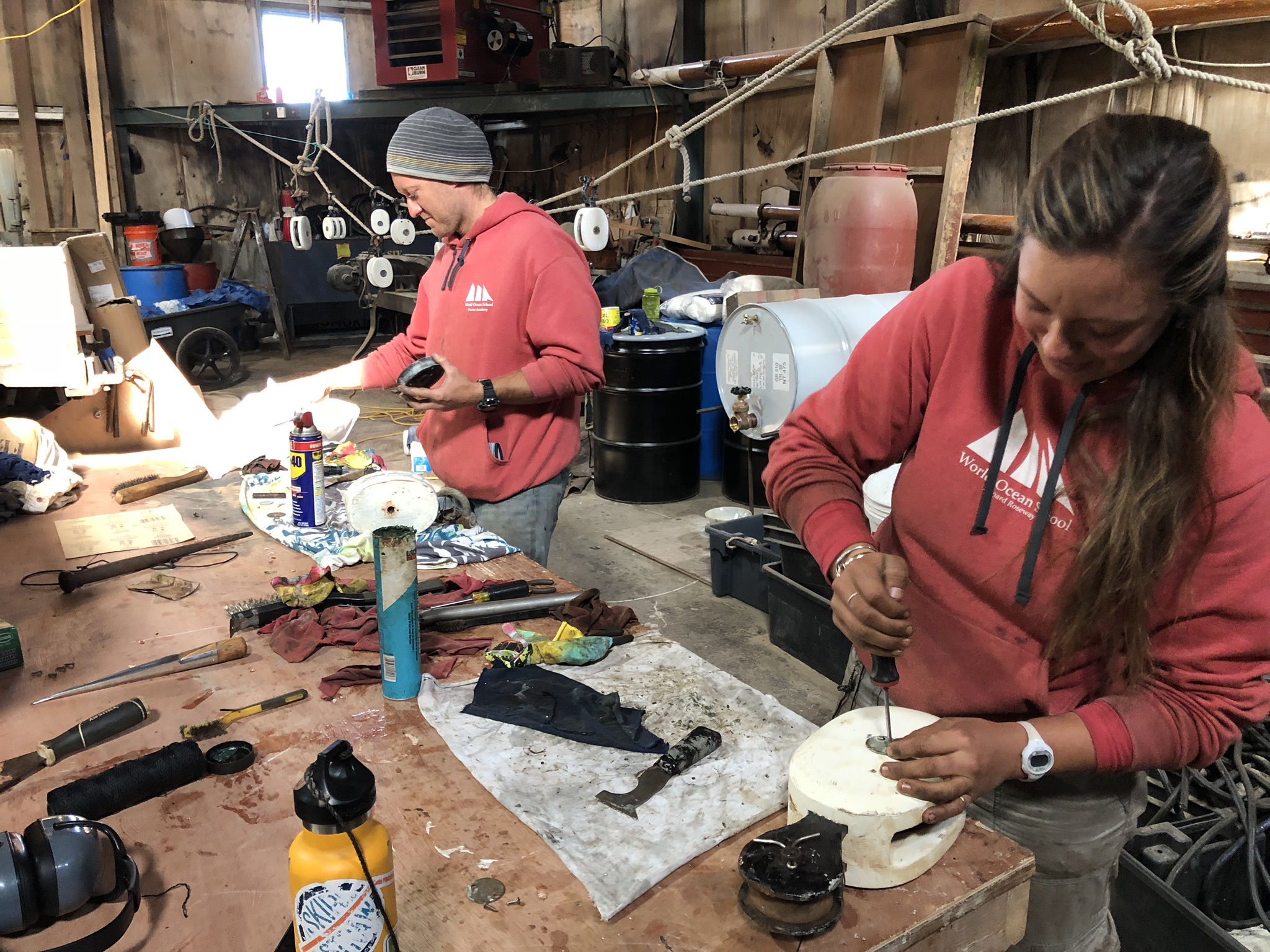 Some other major projects that are nearly complete is the installation of our new generator and the repair of water tank #1. Yesterday, the generator was brought through the top of the galley and lowered into the engine room using a crane. The generator was then moved into place with the aid of hand-operated winches, called come-a-longs, and a plywood ramp. We joked that the plywood ramps had transformed the engine room into a jungle gym! In regards to water tank #1, which lives underneath the sole in the fo'c'sle, a leak was discovered several months ago and we have been unable to use it since. A welder recently cut an access hole into the top of the tank and sealed the leak.
Much work is still to be done, but I look forward to continue to learn about wooden shipbuilding while simultaneously repairing the schooner that I have called home for the past three months.