03/23/16 - Gifft Hill School: Life at Sea Brings a Change of Plans
Gifft Hill School: Life at Sea Brings a Change of Plans
Today we woke up a little earlier, at 0645, expecting to go to St. Croix. But Captain Tom mustered us and told us that the seas would be up to and above 8 feet tall and it was too rough of a voyage, so we decided to sail around the island of Culebra instead. So we had a delicious breakfast of French toast, sausage and orange slices prepared by the ship's cook, Della. Afterwards, we weighed anchor and set sail and split up into our separate watches.
After standing active watch, which includes steering the boat and looking out for traffic and things that we might hit with the Roseway, we had our lesson with Ms. Liz. We continued reading the epic poem "Rhyme of the Ancient Mariner" which is about a Mariner stuck at sea with a curse cast upon him, because he killed an albatross. Our group really enjoys this work because it's interesting and well detailed and being on the water allows us to relate and understand the story a little better. We wrapped up our morning with a seamanship class in which we talked about wind, waves and weather which was well timed, because it started to rain on us shortly.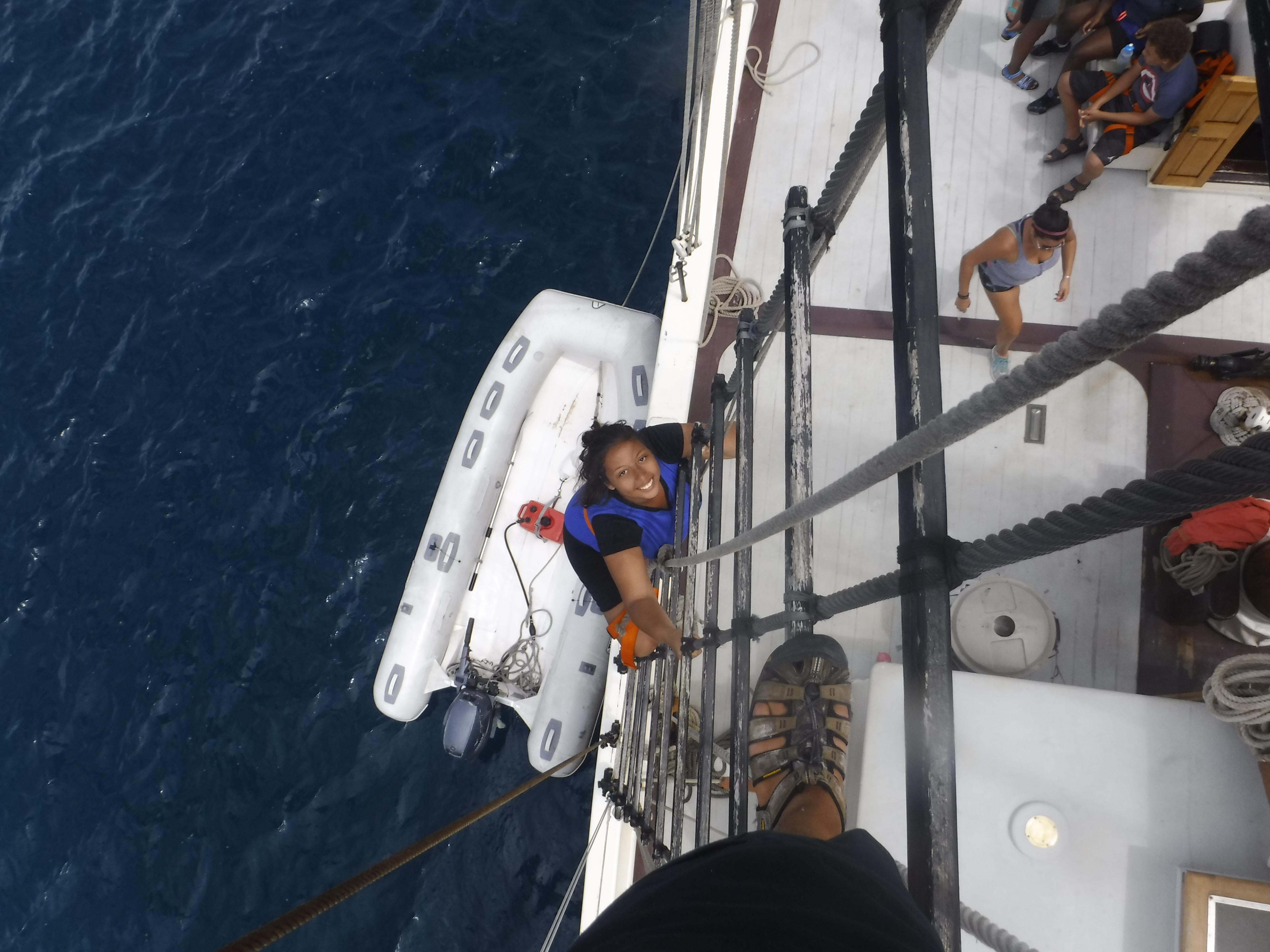 After dropping sails and lowering our anchor near the island of Culebrita we enjoyed a lunch of grilled cheese and tomato soup. Our activities after lunch started with Navigation in which we used our latitude and longitude coordinates to figure out where we were on a chart. Also, we had a chance to plot some points from earlier on in the trip. Following that we prepared for deckhand Olympics by learning which lines go where and what their uses are. Shortly after that we climbed the rig, which moved some of us out of our comfort zones and allowed us to exceed our goals and get a great view of the surrounding islands.
We wrapped our afternoon up by going ashore to Culebrita where some of us snorkeled and relaxed on the beach, while others hiked the island to Tortuga bay, which was beautiful and well worth the trip. When we came back to the boat we showered by jumping back into the ocean while covered in soap and shampoo. Then C Watch did our job of setting up and cleaning up dinner which takes a lot of teamwork and leaves us feeling appreciated.