01/13/17 - Luther College: Finding Dory
Luther College: Finding Dory
Ahoy,
Today, we took the dinghies out to Jost Van Dyke where we hiked a good ten minutes, filling our sandals with sand and rocks as we avoided the poisonous trees (which were conveniently marked with blue arrows) to find ourselves at the Bubbly Pools. Here, great white waves came crashing over the rocks, catching us as they flooded the area. The bigger waves would pull us back as they receded, like a black hole's gravity there was no escaping them until the water had retreated to its typical position. After hiking back, we were all appropriately soaked as the dinghy took us back to the ship.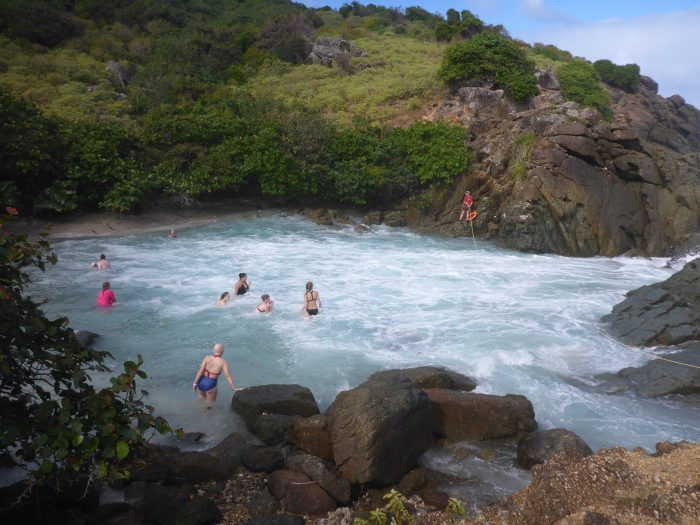 Splashing around in the Bubbly Pools on Jost Van Dyke. 
As we sailed through the channel named for Sir Francis Drake, we read an account of that man's voyages near what we now call California for the class-room portion of the day. It was quite meta. Upon arriving at St. Peter's Island, we took our snorkels and our flippers and swam towards the rocky shore, stopping when we came across a beautiful coral reef. The life down there was extremely colorful, deep purples, light greens, and a wide variety of tan colors were on display. Several types of fish could be seen swimming through the sea; perhaps we should tell Disney that we found Dory? After a good while observing, we were having too much fun to keep track of time, we concluded that we should return to the ship. Not long after, we were treated to yet another spectacular dinner by Andy. And yes, before you ask, we did eat our broccoli.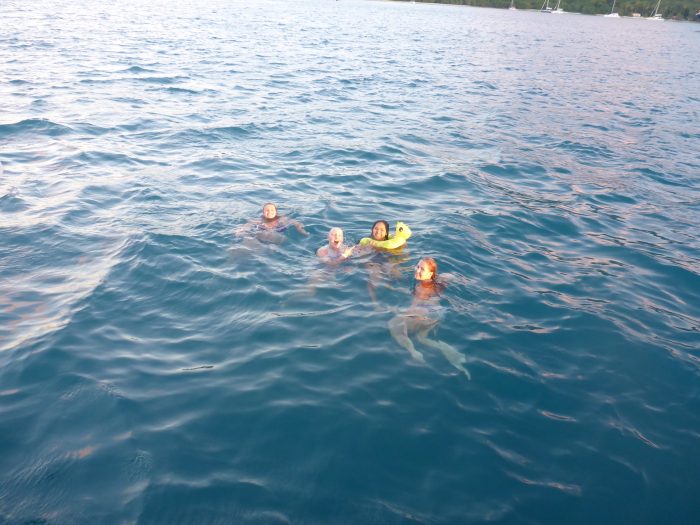 Lots of time for swimming and snorkeling today!