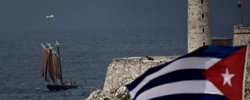 In October 2016, Roseway made an historic journey to Cuba--the first time in 57 years that an authentic historic tall ship has sailed into Havana. 
This was a huge undertaking and a major chapter in Roseway's 91-year history, as well as an historically significant international event. It took months of diplomatic negotiations with Cuban officials. It took work to obtain the U.S. Coast Guard permissions. It entailed a major fundraising campaign. It took a coordinated, extensive media outreach prior and post voyage. All within a very short window of five months.  
"Traveling the world is one of the best things students can do to become good global citizens, said Congressman Jim McGovern (MA-02). "This program is a wonderful opportunity for New England students to witness firsthand this new chapter in U.S.-Cuba relations. Our next generation of leaders must be prepared to meet global challenges and this trip will give these students the chance to give back through community service and make our country proud as young ambassadors. I am grateful to the World Ocean School for leading this innovative program and providing this incredible opportunity for our students." 
Arriving with twenty-two students on board from Proctor Academy, Roseway docked in old Havana and had a day to tour the city with historian Dr. Michael Connors, as well as partaking in a spontaneous pick up game of soccer with local youth in a city square. Students also visited the U.S. Embassy, met with local artists, and toured Ernest Hemingway's home, Finca Vigia. 
Student Sam Fulton remarked  "I think when looking at a map as a little kid when I pointed at Cuba, my parents would say "that's not a place Americans go".  When I visited Cuba, I learned you've got to give everything a chance. I came in with a closed mind. I didn't realize this until we played soccer in the plaza with the kids on our first day, but we're all the same."
With sponsorships from Stonegate Bank, Libra Capital, and Caulfield & Ridgway, as well as many generous individual donors, the Cuba voyage tapped into a wellspring of excitement and enthusiastic support that was inspiring.  One donor said they were so excited that "this is finally putting the 'world' in World Ocean School." 
We could not have accomplished this amazing voyage without the tremendous work and contributions of Board Chair Emerita, Pamela Cunningham, who fundraised and executed this voyage from start to finish. She noted her reasons for dedicating six months of her life entirely to this: "With this unprecedented voyage to Cuba, we were bringing U.S. students an extraordinary opportunity to see a new part of the world and to engage, collaborate, and foster lasting relationships with their peers in Cuba. We were honored that Roseway became the first authentic, original U.S. Tall Ship to dock in Havana in almost 60 years, and were a part of such a positive and important cultural and educational exchange." We owe Pam, and her husband Tod, a huge debt of gratitude!