Virgin Islands Program
Student Program
From November to April, Roseway operates in St. Croix, part of the U.S. Virgin Islands, serving over 350 students in multi-day programs.
Elementary School students are introduced to World Ocean School through a series of half day programs. Our Deckhand Educators leverage Roseway and the ocean to spark interest in academics and the maritime industry. After raising the sails, students turn around and see their island from a new perspective. They notice the beauty of St. Croix and often mention that they, "never thought their island was beautiful before." Our Elementary School program lays the foundation for subsequent years of programming with World Ocean School.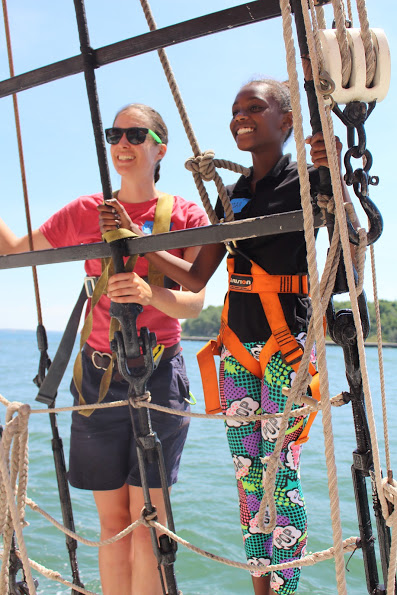 Junior High School students come aboard one day a week for 6 weeks to learn sail handling, seamanship, and academic lessons in physics, mathematics, history and poetry. They calculate the speed of the boat, tie knots, climb the rigging, navigate, and work as a team to raise the sails each morning. They build a community of responsible, engaged and productive members. This program deepens their understanding of the maritime industry, and inspires engagement at home, school, and in the community.

In High School, students have an opportunity to become Junior Crew Members. They spend several hours a week sailing Roseway and building seamanship skills. They also have an opportunity work alongside Deckhand Educators to maintain and preserve Roseway. In doing so, they learn transferable vocational skills and earn Coast Guard Recognized Sea Time, setting them up for successful careers in the maritime industry and beyond.
In the wake of the 2017 Hurricane Season, the opportunity to work together with classmates and teachers, supplement academic curriculum, and connect with the environment is particularly meaningful.

These high-impact programs are made possible with the support of generous donors like Tropical Shipping, Limetree Bay Terminals, and Cane Bay Partners.
If you or your company are interested in sponsoring an educational program, please contact us!