Boston Programs
Student Program
From May through September, Roseway operates from our home port of Boston

Through partnerships with Boston Public Schools and an array of other youth organizations, World Ocean School provides an authentic method of experiential education at sea that empowers students of diverse backgrounds to reach their full potential as responsible, productive, and engaged community members. Our programs engage and inspire students through sail-training, team-building and hands-on lessons during half-day, full-day, week-long or overnight expeditions for students.
For more information or to schedule a program, please contact Cara James at cara@worldoceanschool.org or 617-816-9247.
Boston Public Schools Partnerships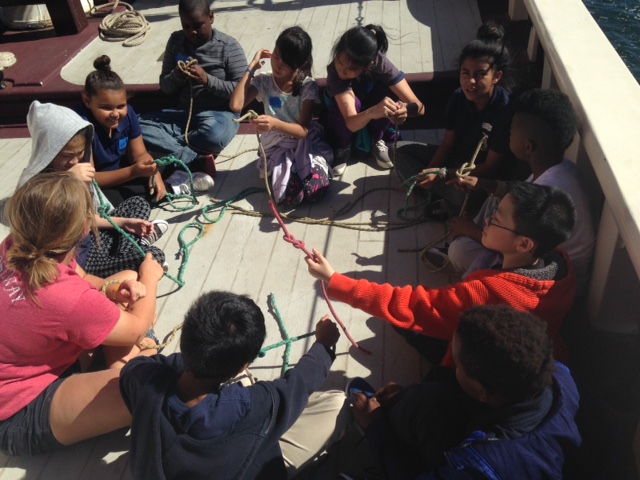 World Ocean School is proud to develop close partnerships with several Boston Public Schools, providing multi-day experiences for elementary and high school students. Because students spend several days on Roseway, they are able to master skills, build on their knowledge, and form deep bonds with their classmates and teachers.
Harvard Kent and Young Achievers
World Ocean School partners with Community Boat Building in a multi-year program with the 4th and 5th grade students of Harvard Kent Elementary School and Young Achievers Elementary School. Fourth grade students begin the program by learning about Roseway's history as a fishing schooner, Pilot Ship, Windjammer, and Education Schooner. During the spring they spend three full days on board working together, learning seamanship skills, and learning about the physics of sailing and life of a sailor. For many of these students, this is their first time on the water, despite living in proximity of the harbor. They are able to explore their environments and expand their worldview while on board Roseway. As 5th graders, they work with Community Boat Building teachers in teams of 5 to build their own sea-worthy boat. Students apply their math, geometry and science knowledge and develop spatial thinking and teamwork skills.
Both World Ocean School and Community Boat Building value holistic, authentic, and contextual education programs. By learning history, sailing, and building their own boats, learning comes alive for these low-income elementary school students.
For more information, please contact Cara James at cara@worldoceanschool.org or 617-816-9247.