Jobs: Program Coordinator (AmeriCorps Program)
Schedule: Rolling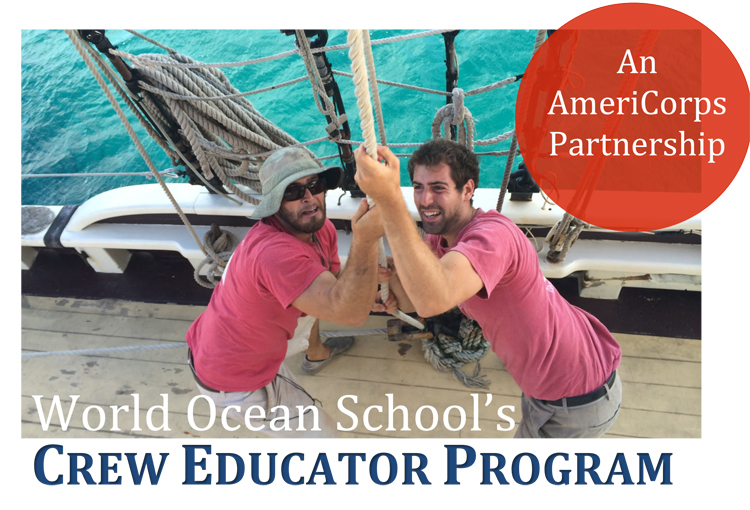 The Program Coordinator aboard Roseway is a year-long commitment to the Crew Educator AmeriCorps Program that provides a practicum in sail training, teaching at sea, and community-building with youth. As an AmeriCorps volunteer working and living aboard the historic Schooner Roseway, crew members receive exceptional benefits, along with making an impactful contribution to the world. The goal of this program is to train and support excellent maritime educators and role models for World Ocean School's (WOS) student programs aboard the Schooner Roseway. Reporting directly to the Program Manager, the Program Coordinator will play a key role in the daily execution of World Ocean School programming aboard the schooner Roseway. The position demands a willingness to be a teacher and a crew member, excellent communication and organizational skills, ability to make independent decisions as well as follow orders, lead their fellow crew members, and a strong commitment to the safety of the vessel, the students, and the crew. This individual will be responsible for many (if not all) facets of the Deckhand Educator role, as well.
Learn everything you need to know through our "AmeriCorps Program Coordinator Information Sheet" in the sidebar!
HOW TO APPLY: Please click the sidebar to fill out an application. If accepted, you will be required to have a drug test, background check, medical exam with physician's signature, a valid passport, and a Transportation Workers Identity Card (TWIC).
Skills & Qualifications
Multi-tasking ability
Commitment to execution and follow through
Flexible and able to adapt to possible opportunities
Willingness to include and teach students in all areas of job
Decisive, but also committed to participating as part of a team
Mature well-grounded sense of personal ethics, evident in the individual's integrity, fairness, and openness—upholding the highest standards in public and personal relations
Capable of representing the World Ocean School favorably
Responsibilities:
Serve as an active deckhand and crew member when the vessel is at sea and in port, standing watches and participating in the general operation of the ship
Serve as instructor to students both on shore and at sea
Organize and implement crew training in the education lessons, as well as hold crew accountable for their teaching preparation and execution
Serve as a liaison between the ship and the home office
Keep up to date the education curriculum and suggest areas of improvement and development
Oversee the evaluation of programs on the ship and organize the paperwork for programs
Communicate with teachers and program leaders on site for scheduling and other details
Manage a crew watch and educate students in seamanship and other areas of experiential learning as they arise
Advise, oversee, and serve as role model for students both on shore and at sea
More information:
THE YEAR: The program coordinator position is a 12 month commitment that begins December 1, 2019 in St. Croix, Virgin Islands where you will board Roseway. For two weeks you will work alongside former crew and learn the operation of the ship, as well as the curriculum that is taught aboard. During the winter months, programs for the Virgin Islands public schools will take place aboard, with some voyaging to points south. In late spring, the ship will voyage to Boston where Roseway undergoes her annual maintenance and you'll participate in the continued preservation of our historic ship. By late spring you'll be immersed in facilitating programs for Boston youth, including voyages as far north as Nova Scotia. Come fall, you will embark upon the Ocean Classroom semester from Boston to Puerto Rico. At the culmination of the fall voyage, Roseway returns to St. Croix where you begin training the new recruits who will learn from you, and ultimately take your place as your Crew Educator AmeriCorps program comes to an end.