Jobs: Crew Educator AmeriCorps Program
Schedule: Rolling
Crew Educator Americorps Program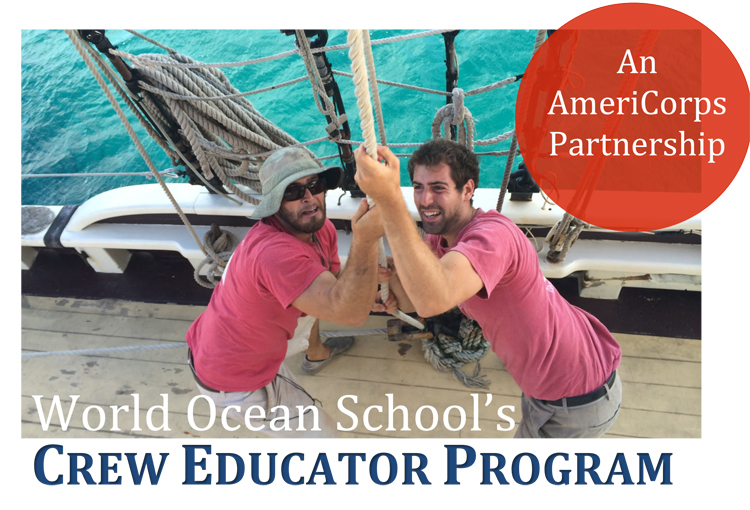 The Crew Educator AmeriCorps Program aboard Roseway is a year-long practicum in sail training, teaching at sea, and community-building with youth. As an AmeriCorps volunteer working and living aboard the historic schooner Roseway, crewmembers receive exceptional benefits, along with making an impactful contribution to the world.
The goal of this program is to train and support excellent maritime educators and role models for World Ocean School's student programs aboard the schooner Roseway.
Learn everything you need to know through our "AmeriCorps Deckhand Educator Information Sheet" in the sidebar!
HOW TO APPLY: Please click the sidebar to fill out an application. If accepted, you will be required to have a drug test, background check, medical exam with physician's signature, a valid passport, and a Transportation Workers Identity Card (TWIC).
Skills & Qualifications
An interest in furthering the educational mission of the World Ocean School
Self-awareness, knowing when to step forward or take a step back
Willing to live by the rules and regulations aboard the ship
Commitment to execution and follow through
Energetic, flexible and adaptable to changing environments and schedules
Able to model good behavior for students and serve as an educator
Able to be an active member of a team
Mature well-grounded sense of personal ethics, evident in the individual's integrity and responsibility—upholding the highest standards in public and personal relations
Capable of representing the World Ocean School favorably
More information:
THE YEAR: The crew educator program is a 12 month commitment that begins November 29,2020 in St. Croix, Virgin Islands where you will board Roseway. For two weeks you will work alongside former crew and learn the operation of the ship, as well as the curriculum that is taught aboard. During the winter months, programs for the Virgin Islands public schools will take place aboard, with some voyaging to points south. In late spring, the ship will voyage to Boston where Roseway undergoes her annual maintenance and you'll participate in the continued preservation of our historic ship. By late spring you'll be immersed in facilitating programs for Boston youth, including voyages along the coast of New England. Come fall, you will embark upon the Ocean Classroom semester from Boston to Puerto Rico. At the culmination of the fall voyage, Roseway returns to St. Croix where you begin training the new recruits who will learn from you, and ultimately take your place as your Crew Educator AmeriCorps program comes to an end.