Jobs: Crew Educator AmeriCorps Program
Schedule: 11/27/17 - 12/2/18
Crew Educator Americorps Program
THIS OPPORTUNITY IS CLOSED FOR 2017 APPLICATIONS. PLEASE CHECK BACK IN APRIL 2018 TO APPLY FOR A POSITION IN THE NEXT ROUND. THANK YOU!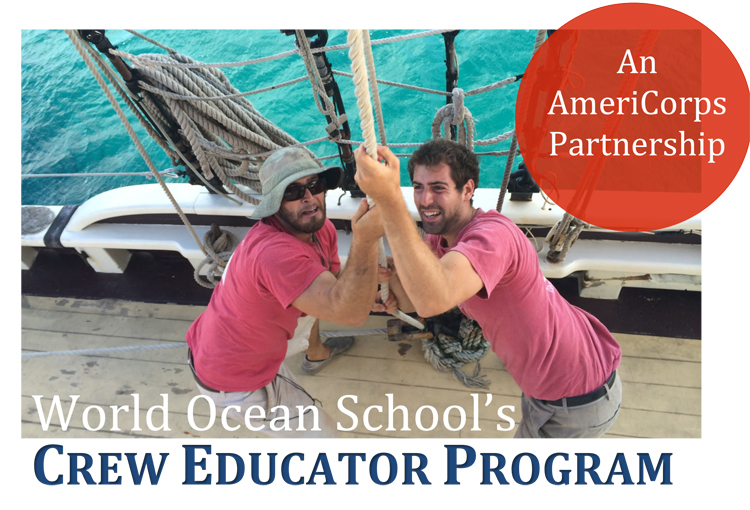 The Crew Educator AmeriCorps Program aboard Roseway is a year-long practicum in sail training, teaching at sea, and community-building with youth. As an AmeriCorps volunteer working and living aboard the historic schooner Roseway, crewmembers receive exceptional benefits, along with making an impactful contribution to the world.

∞   Qualified student loan forbearance
∞   Scholarship funds for continuing education
∞   Health insurance
∞   A monthly stipend
∞   Room and board aboard a National Historic Landmark ship
∞   Formal Sail training 
∞   USCG approved sea-time
∞   Experiential educator training
∞   Lifetime friendships from around the globe
∞   Voyaging throughout the Atlantic coast and the Caribbean
The goal of this program is to train and support excellent maritime educators and role models for World Ocean School's student programs aboard the schooner Roseway.   
Skills & Qualifications
Crew educators are integral in providing our students with transformative life skills and character development; inspiration for academic and vocational advancement; strong relationships with caring and responsible adults; and a safe environment for learning.
More information: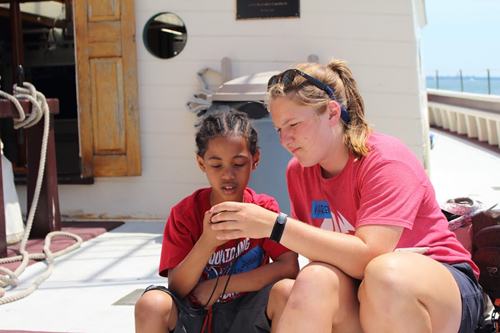 THE YEAR: The crew educator program is a 12 month commitment that begins November 27, 2017 in St Croix, Virgin Islands where you will board Roseway. For two weeks you will work alongside former crew and learn the operation of the ship, as well as the curriculum that is taught aboard. During the winter months, programs for the Virgin Islands public schools will take place aboard, with some voyaging to points south. In late spring, the ship will voyage to Boston where Roseway undergoes her annual maintenance and you'll participate in the continued preservation of our historic ship. By late spring you'll be immersed in facilitating programs for Boston youth, including voyages as far north as Nova Scotia. Come fall, you will embark upon the Ocean Classroom semester from Boston to Puerto Rico. At the culmination of the fall voyage, Roseway returns to St Croix where you begin training the new recruits who will learn from you, and ultimately take your place as your Crew Educator AmeriCorps program comes to an end.
HOW TO APPLY: Please click the sidebar to fill out an application. If accepted, you will be required to have a drug test, background check, medical exam with physician's signature, a valid passport, and a Transportation Workers Identity Card (TWIC).
Deadline for Applications: MAY 1, 2017
Decisions Announced: JUNE 1, 2017